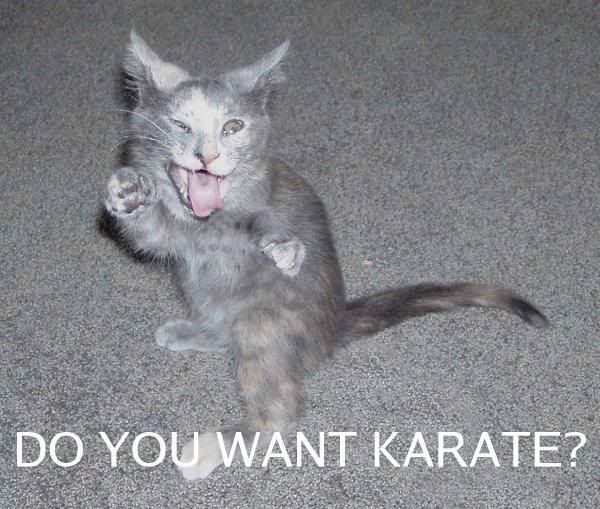 I found that pic at
ROFLCats
and I love it!
More changes at the dojo lately - we cleared out our "reception hall" area and now have a 3rd training floor! It's not as big a space as the other 2, but that's still space we couldn't use to train in before. Also, the 8-9pm class has been cut. There just weren't enough people showing up to train. So now there are 3 classes running from 7-8pm. Great for those nights when we're just getting going good and it's time to close class. Now we can stay late and keep working without being in the way of another class.
I have begun learning
Kanku Dai
. That kata terrifies me. Not really anything in particular about the kata, just the idea of actually having to run it. See, Kanku Dai is probably the kata I saw the most in that one year span of spectating before I decided to jump in and play along. And it's such a beautiful kata - when performed correctly. I just want to be able to do it justice. And that ugly old
Green Belt Syndrome
is back to whisper in my ear that I won't.
In other karate news, I suck at judging sparring. I just can't focus on everything all at once. It's all happening too fast. That's the same reason I suck at sparring. So that's another skill to add to my list of skills that I need to make vast improvements on.